Liveability Report
With India heading towards urbanization and metropolitan growth, cities have become the prime engines of growth. In the rush to be among the top in the growth race, development loses its scope as regions prosper monetarily, neglecting social welfare.

The Liveability Index is a methodical analysis that evaluates the degree of liveability that Indian cities offer. The cities selected are ranked annually on the important pillars of demographics, education, health and medical standards, safety, housing options, socio-cultural and political environment, economic environment and natural-built/planned environment and their 20 constituent sub-pillars. Rather than approach the issue monolithically, the report undertakes a statistically robust splintering of liveability into multiple dimensions.
Methodology
Liveability can be defined as, "the potential of a city to offer favorable conditions to its residents and others on the parameters of social, natural, economic and physical environment". The liveability index draws its outline on a similar note. It determines the degree of liveability of cities in India. In other words, it is an array of different functions that are directly or indirectly related to livelihood of a resident. It is supported by an integrated theme containing equity, dignity, accessibility, conviviality, participation and empowerment.
The index is a holistic approach towards understanding and identifying the
components of liveability that are acting as a catalyst or caveat in a region's growth agenda. It covers urban as well as rural areas of a city thus mapping the entire region prudently on qualitative as well as quantitative factors.
The model is build upon eight core pillars. They are demographic, education,
health and medical standards, safety, housing option, socio-cultural-natural
environment, economic environment, and planned environment. These pillars are then branched into 20 constituent sub-pillars, which consist of indicators that map the factor quantitatively.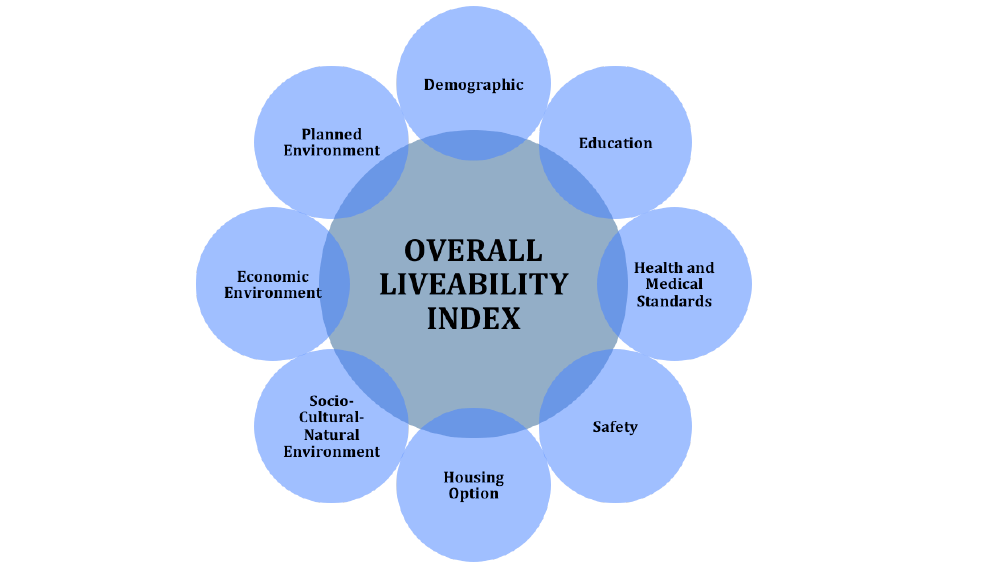 Reports
Liveability Index 2010

anemptytextlline

Indo Dutch Connect in an interaction with Dr. Amit...

anemptytextlline

Liveability Index 2011

anemptytextlline

Indian Capital 'New Delhi' ranks first in the Liveability...

anemptytextlline

Liveability Index 2012

anemptytextlline

India Today Hindi: Real Estate Special

anemptytextlline

New Delhi falls 12 places and Chennai emerges as...

anemptytextlline

Mumbai, Chennai and Hyderabad top three liveable Indian cities

anemptytextlline

Mumbai, Chennai and Hyderabad are the Top Three Liveable...

anemptytextlline

Mumbai, Chennai and Hyderabad are the Top Three Liveable...

anemptytextlline

Pune slips in livability index, reveals survey

anemptytextlline

Hyderabad third most liveable in India

anemptytextlline

India's 20 most livable cities, Mumbai is No 1

anemptytextlline

Behtareen Shahar: Shaharon Ke Vikas Se Upji Chunautiyaan

anemptytextlline

Liveability Index 2014

anemptytextlline

Enhancing Economic Competitiveness of Hyderabad - Practical Solutions

anemptytextlline