The most effective investments a country can make is in its children. The young of today go on to constitute the workforce of tomorrow. The development of children, therefore, defines the growth and prosperity of a nation over the long run. The idea is particularly pertinent for India, which has almost half of its population below 25 years of age. The country has grown rapidly over the past two decades and has seen strong improvements on development indicators. India currently stands at a point where it needs to plan for a promising future, building on its achievements and ensure that its demographic dividend is harnessed to its complete potential. Building upon the country's human capital has become critically important to sustain and elevate its current growth curve.
While India has the highest number of children in the world, their health and education levels have immense scope for improvement. The country has made promising progress over the last few decades on some aspects. Since the turn of the century, India has reduced child mortality from 91.7 per 1000 live births in 2000 to 39.4 in 2017. The world average also stood at 39 in the same year. Therefore, child mortality is an aspect that is on the uptick. But there are several concerning elements regarding child health. India, for instance, has nearly half of the world's malnourished.
Figure 1 shows the state of malnourishment among Indian children. The high levels of malnutrition among children under-five years is visible in the figure below, which shows that around 38 percent of Indian children are stunted. This prevalence of stunted children in the country is nearly double the world average of 21.9 percent.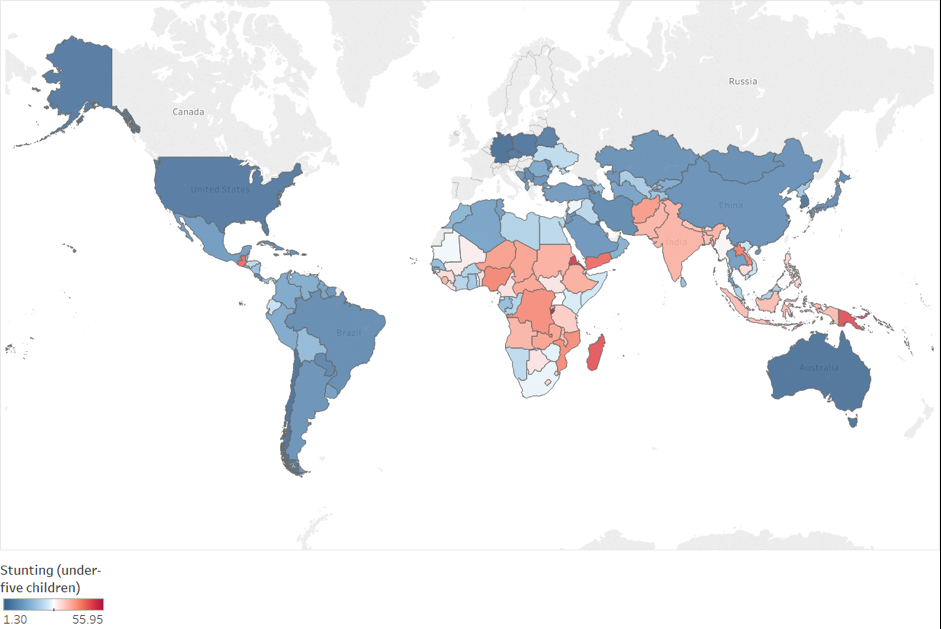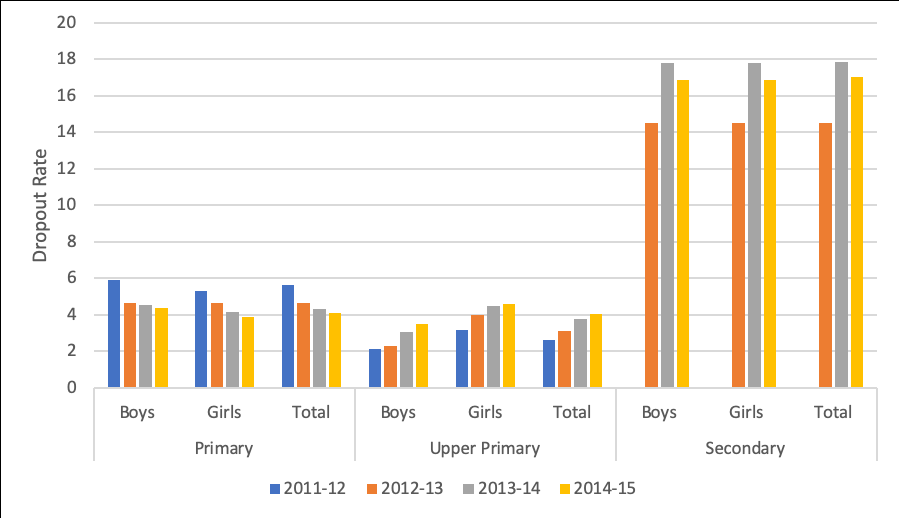 Just as India is meeting the basic conditions of child health like under-five mortality but is performing poorly on more complex aspects like nourishment, education shows similar trends. India has achieved universal enrolment in primary education, for instance. But, as Figure 2 shows, the dropout rates are still notable in the early years of child education. What particularly stands out in the figure is the sudden jump in dropout rates at the level of secondary education. While primary dropout rates stood at around 4 percent in 2014-15 at the primary level and are even lower at the upper-primary level, the dropout rates at secondary level exceeded 17 percent.
Therefore, the performance of health and education among Indian children is showing improvements and has reached the world average on preliminary indicators like child mortality and school enrolment. However, significant progress needs to be achieved on more complex indicators like malnourishment and dropout rates at higher levels of education. Only by ensuring holistic development of its young can India secure its future growth and development.