The India Dialog
February 23 @ 8:15 AM

-

February 24 @ 5:30 PM

$180

The Indian Economy 2023: Innovation, Competitiveness and Social Progress
2-day Conference: Thursday, February 23 & Friday, February 24, 2023
The Conference is being presented by Institute for Competitiveness and US Asia Technology Management Center, Stanford University. This will be an in-person conference at Stanford University and advanced registration will be required. The event will be open to the Stanford community and the public. More details could also be looked at https://asia.stanford.edu/
The Indian economic and social landscape has experienced crucial transformations in the last decade. The reforms and developmental initiatives in this period aimed at enhancing innovation, competitiveness, and efficiency in the Indian economy. Government policies across health, education, housing, and energy emphasized on sharing prosperity amongst all groups, ensuing equitable regional development and social progress. Despite several external uncertainties, India charted a resilient roadmap for its growth and development through focused policy implementation. To take stock of the transformations in the Indian economy and the social progress achieved in recent years, we are inviting world-leading experts and intellectuals in economics, business, policy-making, and social development to provide their up-to-date perspectives into the state of the India economy in 2023 and into the outlook and challenges for its continued progress.
Sessions include keynote talks, panel discussions, and fireside chats on topics such as the impact of government policies, district and regional economic and social progress, labor force transformation, education and healthcare reform, water governance, entrepreneurial innovation, and international engagement with Silicon Valley / the U.S.
Distinguished speakers include Amitabh Kant, G20 Sherpa, GOI; Param Iyer, CEO, NITI Aayog; Bibek Debroy, Chairman, EAC-PM; Nancy Jackson, U.S. Deputy Assistant Secretary of State; Christian Ketels from Harvard Business School; Mark Suzman, CEO, BMGF, et al.
Block your seat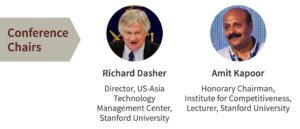 AGENDA
February 23, 2023
8:15 AM – 9:00 AM – Registration with Networking Breakfast
9:00 AM – 9:05 AM – Opening Remarks by Richard Dasher, Director, US-Asia Technology Management Center, Stanford University
9:05 AM – 9:20 AM – Welcome remarks by TV Nagendra Prasad, Consul General of India, San Francisco
9:20 AM – 9:40 AM – Keynote 1 by Dr. Bibek Debroy, Chairman EAC – PM on "Factors behind India's recent economic and social progress: The impact of government policies"
9:40 AM – 10:00 AM – Keynote 2 by Nancy Izzo Jackson, Deputy Assistant Secretary for India, US State Department on "What the Indian economy means for the U.S"
10:00 AM – 10:20 AM – Networking Tea/Coffee Break
10:20 AM – 11:20 AM – Panel 1 on "Emerging India: Competitiveness, opportunities and innovation in a growing economy"
Chaired by Bibek Debroy, Chairman, EAC – PM
Michael Enright, Professor, NorthEastern University
Christian Ketels, Professor, Harvard Business School
11:20 AM – 11:30 AM – Plenary Talk by Dr. Amit Kapoor on "A higher resolution view of India"
11:30 AM – 12:30 PM – Panel 2 on "Regional insights into India performance and outlook"
Chaired by Amit Kapoor, Honorary Chairman, Institute for Competitiveness & Lecturer, Stanford University
Rick Rossow, Wadhwani Chair in U.S.-India Policy Studies, CSIS
Kunal Kumar, Joint Secretary and Mission Director, Smart Cities Mission
Nirvikar Singh, Co-Director of the Center for Analytical Finance, UCSC
Sean Randolph, Senior Director, Bay Area Council Economic Institute
12:30 PM – 1:30 PM – Networking Lunch at the conference room
1:30 PM – 1:50 PM – Keynote 3 by Arvind Virmani, Member, NITI Aayog
1:50 PM – 2:00 PM – Plenary Talk on "Labor force changes and continuing needs"
2:00 PM – 3:00 PM – Panel 3 on "Labor force transformation Part A: New Skills"
Chaired by Radhika Prabhu, Exec. Director, US – India Alliance for Women's Economic Empowerment, US State Department
3:00 PM – 3:20 PM – Networking Tea/Coffee Break
3:20 PM – 3:40 PM – Keynote 4 by Parameswaran Iyer, CEO NITI Aayog on "Water and governance. Future strategic challenge (security and economic)"
3:40 PM – 4:40 PM – Panel 4 on "Water Governance"
Chaired by Parameswaran Iyer, CEO NITI Aayog
Richard Damania, Chief Economist, Sustainable Development Practice Group, World Bank
Satyajit Singh, Professor, Department of Political Science, UCSB
Leela Fernandes, Scholar
Arun Baroka, Additional Secretary, Ministry of Jal Shakti
4:40 PM – 4:50 PM – Plenary Talk by Dr. Anjali Kaur, USAiD on "Importance of Education"
4:50 PM – 5:50 PM – Panel 5 on "Educational Reforms"
Chaired by Dr. Anjali Kaur, USAiD
Geeta Murali CEO of Room to Read
Pawan Sain, Joint Secretary, EAC – PM
Ashish Jhalani, President – International Markets, Square Panda Inc. & MD, Square Panda India
6:00 PM – 7:00 PM – Dinner Keynote
Dinner Keynote by Shri. Mansukh Mandaviya, Minister of Health & Family Welfare, Government of India and release of Paper on "Healing the Economy: Estimating Economic Impact of Vaccination and related measures"
Richard Dasher, Director, US-Asia Technology Management Center, Stanford University
Amit Kapoor, Lecturer, Stanford University
SV Subramanian, Professor at Harvard TH Chans School of Public Health
Hari Menon, Director – India Country Office, BMGF
6:30 PM – 8:00 PM – Buffet Dinner at the Faculty Club
February 24, 2023
9:00 AM – 9:05 AM – Opening Remarks by Richard Dasher, Director, US-Asia Technology Management Center, Stanford University
9:05 AM – 9:15 AM – Plenary Talk by Hari Menon, Director – India Country Office, BMGF
9:15 AM – 10:15 AM – Panel 6 on "Healthcare"
Chaired by Hari Menon, Director – India Country Office, BMGF
Stephen Ezell, Vice President, Global Innovation Policy, ITI
Nikolaj Gilbert, CEO, PATH
Maarten Koomans, Customer Pursuit and Engagement Director, Tonomus Neom
10:15 AM – 10:35 AM – Networking Tea/Coffee Break
10:35 AM – 10:40 AM – Presentation of Porter Prize 2023
10:40 AM – 11:00 AM – Keynote 5 by Shri. Amitabh Kant, G20 Sherpa, Government of India
11:00 AM – 11:10 AM – Plenary Talk by Richard Dasher, Director, US-Asia Technology Management Center, Stanford University on "Entrepreneurship and societal sustainability"
11:10 AM – 12:10 PM – Panel 7 on "Entrepreneurship and innovation for sustainability"
Chaired by Richard Dasher, Director, US-Asia Technology Management Center, Stanford University
Vivek Wadhwa, Fellow,Harvard Law School and Carnegie Mellon University's College of Engineering at Silicon Valley
Bob Eberhert, Professor, UCLA
Steven Vogel, Director of the Political Economy Program, Market Craft
12:10 PM – 1:20 PM – Networking Lunch
1:20 PM – 1:40 PM – Keynote 6
1:40 PM – 1:50 PM – Plenary Talk by Michael Green, CEO, Social Progress Imperative "The importance of social progress in aiming at a balanced model of economic growth"
1:50 PM – 2:50 PM – Panel 8 on "Integration of Economic Growth and Social Progress"
Chaired by Michael Green, CEO, Social Progress Imperative
Mark Esposito, Professor, Professor, Hult Int'l Business School & Harvard University's Division of Continuing Education
Mathew Bishop, Senior fellow in the Center for Sustainable Development, Brookings
Mastercard Representative
2:50 PM – 3:10 PM – Networking Tea/Coffee Break
3:10 PM – 3:20 PM – Plenary talk by MR Rangaswami, MD, Indiasopra
3:20 PM – 4:20 PM – Panel 9 on "International engagement for India's future"
Chaired by MR Rangaswami, MD, Indiasopra
Mukesh Aghi, President & CEO, USISPF
4:20 PM – 4:30 PM – Closing Remarks by Dr. Amit Kapoor, Lecturer, Stanford University
4:30 PM – 5:30 PM – Networking Tea/Coffee
SPEAKERS