A Movement Towards Atmanirbhar Bharat
11th December 2020 @ 3:00 PM

-

4:30 PM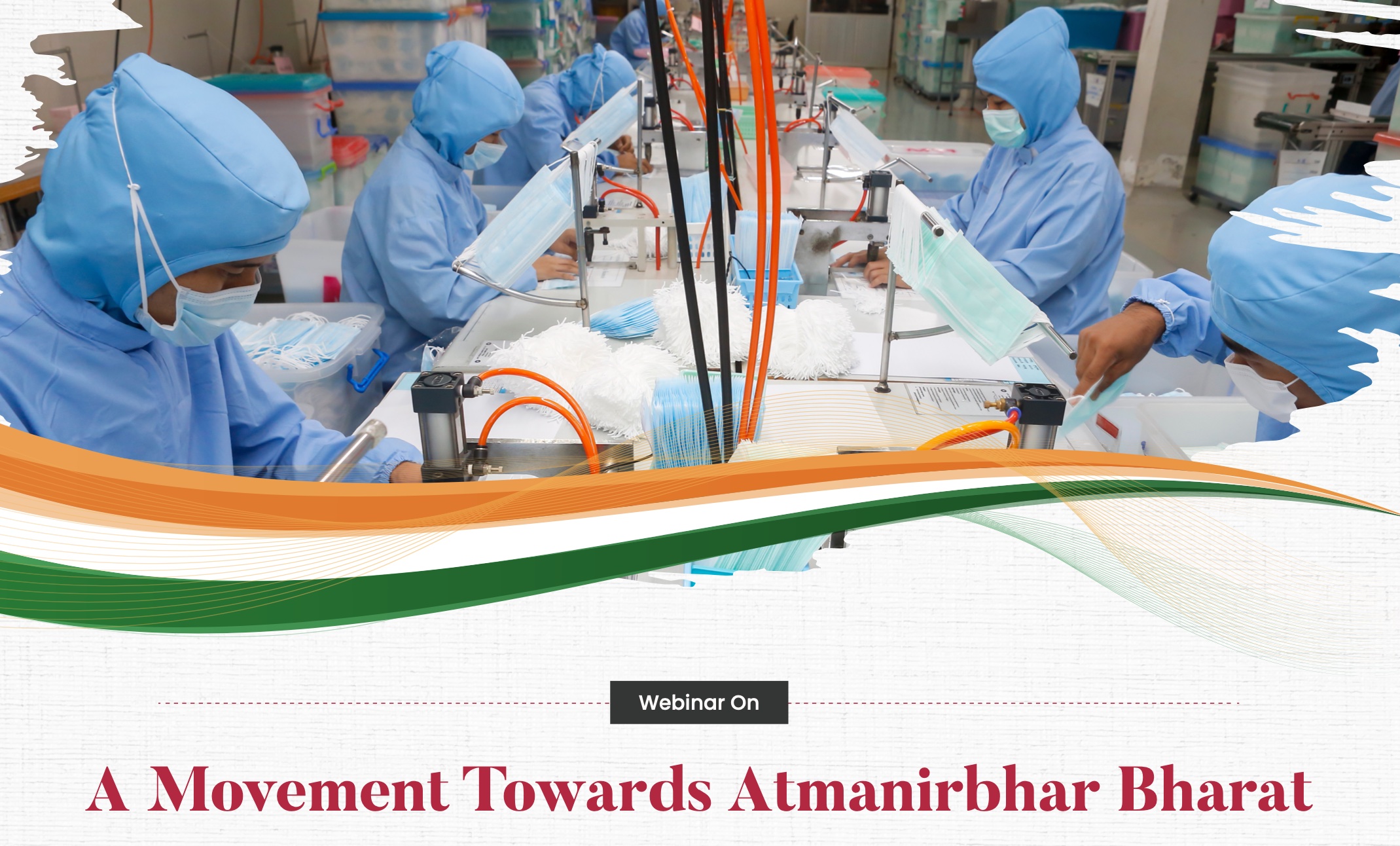 A Movement Towards Atmanirbhar Bharat
Competitiveness and Manufacturing of PPE

s
Atmanirbhar Bharat is a movement towards making India competitive, innovative and productive. The Government of India (GoI) had set out on a daunting path of turning a crisis into an opportunity. The study conducted by Institute for Competitiveness looks at how the Ministry of Textiles enabled development of an indigenous supply chain in India for manufacturing of high quality PPE's during the last few months. Join us for a live interaction on understanding this important journey of Atmanirbhar Bharat and making India competitive in the arena. Join us for a live interaction on Journey of Atmanirbhar Bharat.
You could register yourself for the webinar at https://us02web.zoom.us/webinar/register/WN__8qc5q-sS-Sly9gnXu5KSQ
Agenda
Webinar on "A Movement Towards Atmanirbhar Bharat"
December 11, 2020
3:00 PM – 4:30 PM (India Time)
3:00 – 3:05 – Opening Remarks by Amit Kapoor, Chair, Institute for Competitiveness
3:05 – 3:10 – Gautam Nair, Co-Chairman, Co Chair, CII Coalition on PPE
3:10 – 3:15 – Sandeep Makkar, Managing Director, Johnson & Johnson Medical India
3:15 – 3:20 – Punit Lalbhai, Executive Director, Arvind Ltd.
3:20 – 3:25 -Ravi Capoor, Secretary, Ministry of Textiles, Government of India
3:25 – 3:50 – Session with Smt. Smriti Irani, Minister of Textiles, Government of India
Introduction by Amit Kapoor
Keynote by Smt. Smriti Irani, Minister of Textiles, Government of India (15 minutes)
Q & A led by Amit Kapoor (10 minutes)
3:50 – 4:30 – Panel Discussion followed by Q&A
Moderated by Anurag Batra, Chairman & Editor-in-Chief, Businessworld
Nihar Ranjan Dash, Joint Secretary, Ministry of Textiles, Government of India
Moloy Chandan Chakrabortty, Jute Commissioner, Government of India
Rajit Ranjan Okhandiar, CEO, Central Silk Board, Ministry of Textiles, Government of India
R D Udeshi, President, Polyster Chain of Reliance Industries
Priya Thapar, Director, JCT
A Sakthivel, Member of Board & Chairman, Apparel Export Promotion Council
Sivaramakrishnan Ganpathi, MD & CEO, Gokaldas Exports
Mahesh Kudav, MD, Venus Safety and Health
K S Sundararaman, President, Indian Technical Textiles Association
4:30 PM – Closing Remarks by Amit Kapoor, Chair, Institute for Competitiveness
Speakers
Watch on YouTube
Pictures