India's National Competitiveness Forum & Porter Prize 2019

India's National Competitiveness Forum & #PorterPrize are the annual events of the Institute for Competitiveness. #PorterPrize is named after Michael E. Porter, an economist, researcher, author, advisor, speaker and teacher. This year the event is scheduled on October 17, 2019 at The Taj Mahal Hotel, Mann Singh Road, New Delhi.
The theme for this year is "Competitiveness, Innovation & Ease of Living". We would have prominent business thinkers and leaders who would be sharing their perspectives, experiences, and knowledge on aspects pertaining to the urbanization with cities as social ecologies, creating shared value, redefining society, politics and economics, democracy and populism et al.
Date: October 17, 2019
Venue: Taj Mahal Hotel, Mann Singh Road, New Delhi
Block your seat
[products columns="4″ orderby="title" order="" ids="15594 "]
Agenda
01:00 PM – 02:00 PM – Registration of Delegates & Networking Lunch (Pool Side Lawns)
02:00 PM – 02:05 PM – Introductory Remarks by Dr. Amit Kapoor, Chairman, Institute for Competitiveness
02:05 PM – 02:30 PM – Opening Keynote by Gurcharan Das, Author & Thought Leader on "Dharma of Business"
Presenting the "Thinkers India Hall of Fame" Award
02:30 PM – 03:30 PM – The Innovative Capacities of States
The panel discussion would be followed by the release of India Innovation Index 2019 (http://niti.gov.in)
Rajiv Kumar, Vice Chairman, NITI Aayog
Amitabh Kant, CEO,NITI Aayog
Ashutosh Sharma, Secretary, Department of Science and Technology
Renu Swarup, Secretary, Department of Bio Technology
Vaidya Rakesh Kotecha, Secretary, AYUSH
Moderated by Dr. Amit Kapoor, Chairman, Institute for Competitiveness
03:30 PM – 03:45 PM – Charging talk by Shri. Amitabh Kant, CEO, NITI Aayog on "New Age Mobility"
03:45 PM – 03:50 PM – Release of Child Progress Index 2019 (https://competitiveness.in/child-progress-index-2019/)
03:50 PM – 04:00 PM – Spotlight Talk by Hisham Mundol, Executive Director – India, CIFF on "Child Progress"
04:00 PM – 4:40 PM – Social progress: Redefining Society, Economics, Politics and Security
The panel would look at examining the long-term evolution of societies and the factors of progress, addressing democracy, poverty and inequality, globalization, labor, migration, economic and corporate governance, global and environmental risks, health, conflicts, religions, education, diversity and integration, and other issues. The main ideas would be to focus on social progress and mobilizing collective capacities for the benefit of the many requires reforms that will confront certain vested interests but will be based on broad consensual principles, involving an expansion of participatory governance and the promotion of equal dignity between people, groups and cultures
Anita Rajan, CEO Tata STRIVE & VP Tata Community Initiatives Trust
Anuj Agarwal, COO, ICICI Foundation for Inclusive Growth
Prabhat Labh, CEO, Grameen Foundation for Social Impact
Manoj Kumar Nambiar, MD & Member of Board, Arohan Financial Services
Parag Agarwal, Founder & CEO, JanaJal
Moderated by David Wilcox, Founder, ReachScale
04:40 PM – 05:20 PM – Shared Value: Delivering with Purpose
Having a corporate purpose that serves more than shareholders and includes community, customers, employees and the business is critical, but alone it is insufficient. Purpose matters when you put it into practice and deliver positive outcomes for society and business. A purpose-led company has a portfolio of strategies, policies, programs and practices that help it fulfill its purpose potential. One practice that I believe is the most powerful way to deliver on the promise of purpose is Shared Value. Shared Value is a business discipline that enhances the competitiveness of a company while simultaneously advancing the economic and social conditions in the communities in which it operates. Shared value creation focuses on identifying and expanding the connections between societal and economic progress."
Sarthak Ranade, Managing Director, Janssen India
Sanjeev Mohoni, CEO, Mahindra EPC Irrigation
Tapan Singhel, MD & CEO, Bajaj Allianz Insurance
Subhashini Chandran, EVP & MD, Xynteo
Zarir N Langrana, Executive Director and President (Global Chemicals Business), Tata Chemicals
Moderated by David Wilcox, Founder, ReachScale
05:20 PM – 05:35 PM –Next Generation Storytellers / The Changemakers
Apporvi Bharatam, Founder, The Happiness Project
Anugreh Sehtya, Founder, Hybrid Ideas
Harsha Dipak Dongre, Gramin Mitra
05:35 PM – 06:15 PM – Urbanization & Ease of Living
Kunal Kumar, Mission Director (Smart Cities), Ministry of Housing and Urban Affairs
Vinay Kapoor, MD, Westcourt
Avinash Pandey, CEO, ABP News Network
Ashwani Singla, Founding Managing Partner, Astrum
Moderated by Yatish Rajawat, Author & Commentator
06:15 PM – 06:55 PM – Innovation & Competitiveness: States & Overall geography
The impacts that the transformations will have for businesses, for science and policy still need to be decoded & interpreted. We should look at seeking insights on the business of innovation, strategic foresight on the over-the-horizon truly transformative developments that will underpin future innovation, future industrial capacity, productivity, prosperity and global competitiveness. How policy infrastructure needs to evolve, what about standards & IP and what can we do to really unleash pent-up innovation?"
Patrick Kilbride, Senior Vice President, GIPC
Mark Shultz, Goodyear Tire & Rubber Company Chair in Intellectual Property Law, University of Akron School of Law
Kate Beale, Associate Vice President, PhRMA
Sumant Sinha, Chairman & MD, Renew Power
Dr. Satyanarayana Chava, Founder & CEO, Laurus Labs
Moderated by Rameesh Kailasam, CEO, Indiatech
06:55 PM – 07:10 PM – Keynote by MK Anand, MD & CEO, Times Network
07:10 PM – 07:35 PM – Keynote by Dr. Bibek Debroy, Chairman, Chairman, Economic Advisory Council to the Prime Minister on "Governance"
07:35 PM – 07:40 PM – Unveiling the Inclusive Business List 2019
07:40 PM – 08:25 PM – Keynote by Michael E. Porter, Professor, Harvard Business School on "Purpose"
08:25 PM – 08:40 PM – IFC Strategy Awards (Presented by Times Network) & #PorterPrize 2019
08:40 PM – 08:45 PM – Remarks by Professor Porter for Winning Enterprises
08:45 PM – 08:50 PM – Closing Remarks by Dr. Amit Kapoor, Chair, Institute for Competitiveness
08:50 PM Onwards – Networking Dinner
Agenda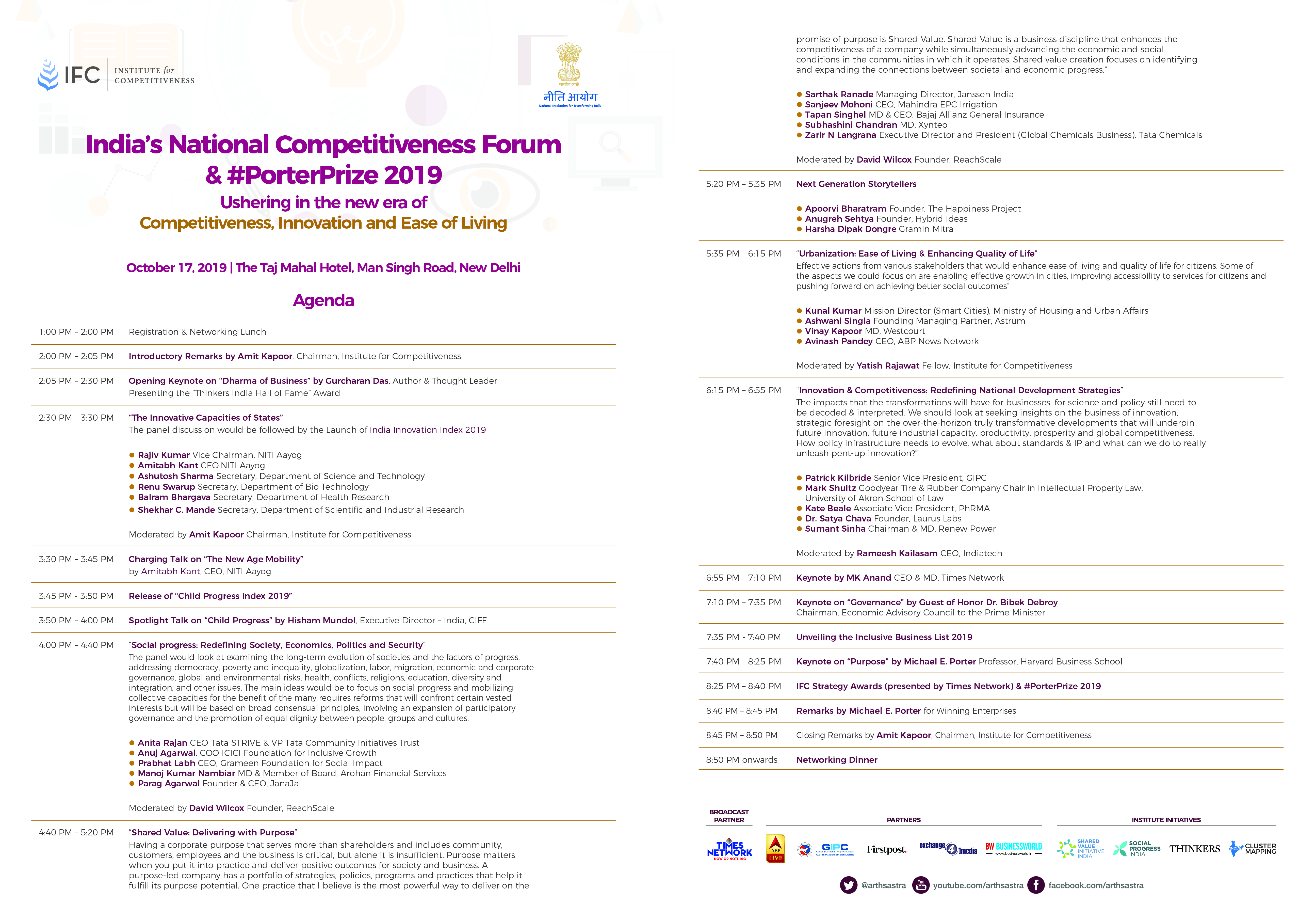 The PorterPrize winners can be looked at http://porterprize.in/porter-prize-2019/
Speakers
Event Pictures
Partners
Award Partner
Broadcast Partner
Institute Initiatives