Leaders of Tomorrow Entrepreneurial Excellence Workshop
30th May 2018 @ 9:30 AM

-

12:00 PM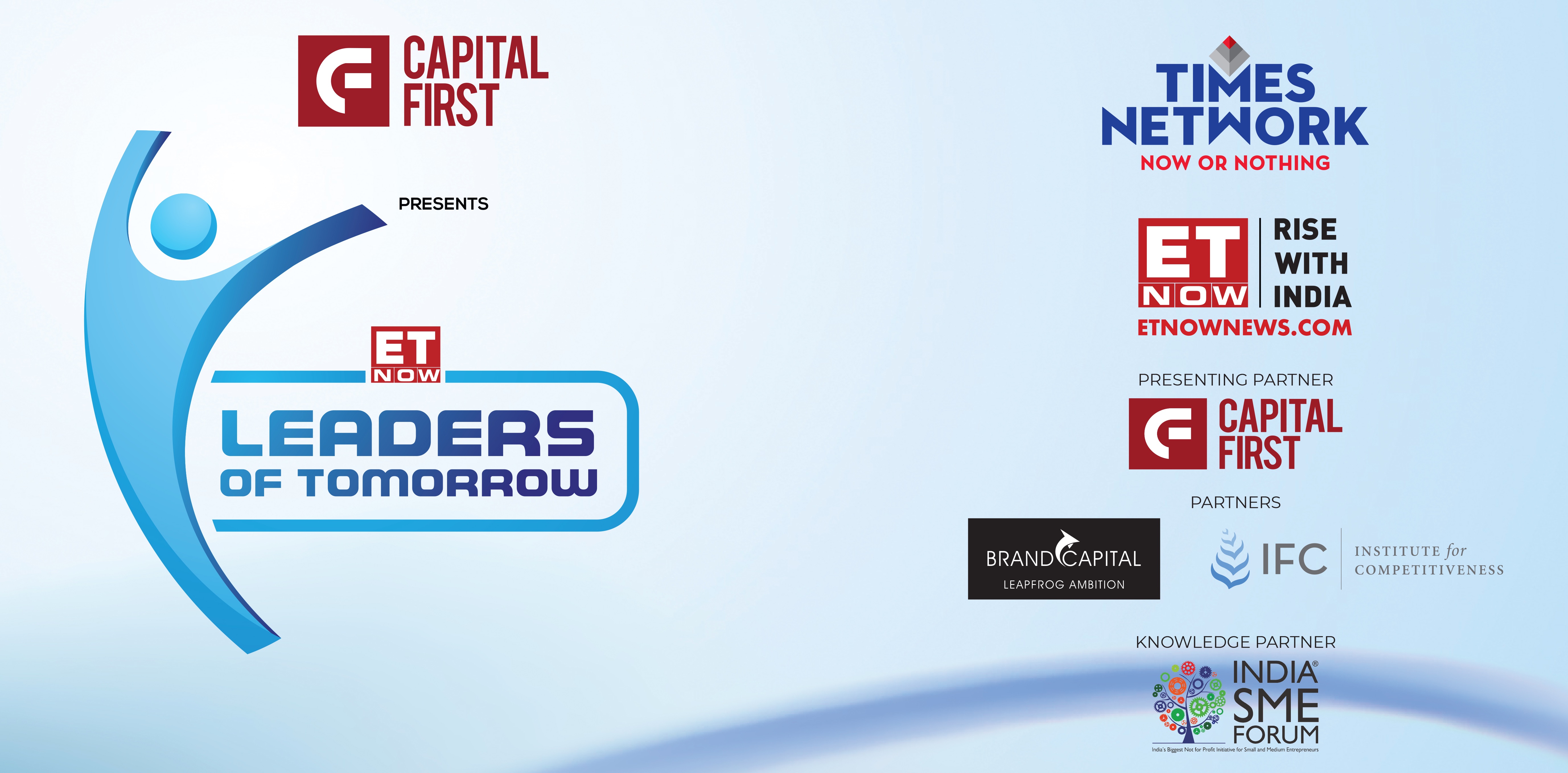 ET Now Leaders of Tomorrow Entrepreneurial Excellence Workshop
ET NOW Leaders of Tomorrow is India's largest entrepreneurial platform which aims is to empower India's 36 million MSMEs with the most relevant information and access to the biggest experts.
Leaders of Tomorrow features India's only daily television show for micro, small and medium enterprises, panel discussions & expert masterclasses and a 20 city roadshow which connects with thousands of entrepreneurs. The show also hosts a awards show that recognises the outstanding contribution of MSMEs across different industries.
Season 7 of Leaders of Tomorrow kicks off with a one of its kind Entrepreneurial Excellence Workshop on Disruptive Innovation. Disruptive innovations are those that improve a product or service in ways that the market does not expect, first by capturing the attention of a different set of customers and later by lowering prices in the existing market. The idea is simple, but powerful: disruptive companies and ideas upend markets by doing something truly different – they see a need, an empty space waiting to be filled, and they dare to create something for which a market may not yet exist.
The stellar line up of speakers include-
Whitney Johnson applies the frameworks of disruptive innovation to identify and invest in disruptive companies. However, Whitney has discovered that these business theories also apply to individuals: if you want to be successful in unexpected ways, follow your own disruptive path. Dare to innovate. Dream big dreams. Do something astonishing. Disrupt yourself.
Amit Kapoor would be sharing frameworks, how to use them and apply them in your journey towards leadership roles in strategy. He would also handhold the participants towards developing business strategies and building innovation capabilities within the respective areas of operation.
Meera Shenoy dedicated her life to skilling underprivileged youth for jobs and her work made companies realize rural youth can be placed in entry level jobs when short term customized training is given. She helps companies build an inclusive workforce.
Join Leaders of Tomorrow Entrepreneurial Excellence Workshop from 9:30 AM – 12:00 PM on May 30, 2018 at Taj Mahal Palace, Mumbai. The LOT Masterclass would be led by Whitney Johnson and is co-hosted by Institute for Competitiveness.
Block your seat
[products columns="4″ orderby="title" order="" ids="10262 "]
Agenda
09:30 – 09:35 – Introductory Remark by Dr. Amit Kapoor, Chair, Institute for Competitiveness
09:35 – 10:35 – LOT Masterclass led by Whitney Johnson, Founder & CEO, WLJ Advisors
10:35 – 10:45 – Talk by Ganesh KN, Professor, IIM Indore on "Indian Economy: Competitiveness, Innovation and Future Prospects – A Macro Perspective"
10:45 – 11:25 – Panel Discussion on "Innovation and Disruption for Entrepreneurs'"
Whitney Johnson, Founder & CEO, WLJ Advisors
Amit Kapoor, Chair, Institute for Competitiveness
Meera Shenoy, Founder, Youth4Job
Rishikesha Krishnan, Director, IIM Indore
Ramaswamy 'Sam' Subramaniam, CEO, Brand Capital
Moderated by Sunanda Jayaseelan, Editor- Leader of Tomorrow, Times Influence
11:25 – 11:45 – Q & A with the audience
11:45 – 12:00 – Networking Tea/Coffee
About Whitney Johnson
Recognized as one of the 50 leading business thinkers in the world (Thinkers50), Whitney Johnson is an expert on disruptive innovation and personal disruption; specifically, a framework which she codifies in the critically acclaimed book Disrupt Yourself: Putting the Power of Disruptive Innovation to Workand the upcoming book Build an "A" Team: Play To Their Strengths and Lead Them Up the Learning Curve. (Harvard Business Press, 2018). She is also the author of Dare, Dream, Do: Remarkable Things Happen When You Dare to Dream. In addition to her work as a speaker and advisor, Whitney is one of Marshall Goldsmith's original cohort of 25 for the #100 Coaches Project, is a coach for Harvard Business School's Executive Education program, frequent contributor to the Harvard Business Review, is a Linkedin influencer, and hosts the weekly Disrupt Yourself Podcast. You can follow her on Twitter at @johnsonwhitney.
About Amit Kapoor
Dr. Amit Kapoor is President & CEO of India Council on Competitiveness; Honorary Chairman at Institute for Competitiveness, India and Editor-in-Chief of Thinkers. He is the chair for the Social Progress Imperative and Shared Value Initiative in India and sits on the board of Competitiveness initiatives in Mexico, Netherlands, Italy & France and University of Vermont's SEMBA Advisory Board. In addition to being advisor to Thinkers50 and participant with the Global Solutions Network, he is an affiliate faculty for the Microeconomics of Competitiveness & Value Based Health Care Delivery courses of Institute of Strategy and Competitiveness, Harvard Business School and an instructor with Harvard Business Publishing in the area of Strategy, Competitiveness and Business Models. He has been inducted into the Competitiveness Hall of Fame which is administered by Institute for Strategy and Competitiveness at Harvard Business School. Amit is a Ph.D. in Industrial Economics and Business Strategy and has received the Ruth Greene Memorial Award winner for writing the best case of the year, by North American Case Research Association (NACRA). He has been invited by Kennedy School of Government & Harvard Law School, Harvard University; Pennsylvania State University, Stanford University, World Economic Forum to present his views on various issues and themes like strategy, outsourcing and economic development. He chairs the jury and curates Porter Prize in addition to curating events like Competitiveness Forum, Thinkers 50 (India) etc. He tweets @kautiliya.
About Meera Shenoy
Having trained 12000 underprivileged youth with disability and placed them in 200 companies across India, Meera Shenoy is the woman behind the confidence and self-esteem such youth lacked. She is a social-change maker and founder of Youth4Jobs (www.youth4jobs.org), an NGO which gives underprivileged, disabled youth the opportunity to work and earn for themselves and their families. Today Youth4Jobs is the largest organisation in this space. She enjoys helping companies become inclusive as it benefits their business and it allows her to combine work with compassion. Her new startup is Not Just Art, (www.notjustartglobal.org) to give artists with disabilities a platform for their untapped talent. Meera is the recipient of many prestigious awards such as the Empowerment of PwDs award from the President of India in 2018; Zero Project award at UN headquarters for being a global innovator in 2017; NCPEDP- Shell Helen Keller Award in 2011, Fetze*r Foundation USA Award in the 'Business and Community' category in 2012 and Access Livelihood Asia 2015 Award. Her recent book "You Can" motivates us to tap into our inner potential. This book of inspirational real-life stories was launched at the Jaipur Literature Festival, one of the largest literary festivals in the world.
About Rishikesha Krishnan
Rishikesha T. Krishnan is Director and Professor of Strategic Management at the Indian Institute of Management Indore, India. From 1996 to 2013, Professor Krishnan was a member of the faculty at the Indian Institute of Management, Bangalore (IIMB), India. Professor Krishnan was a Visiting Scholar at the Center for the Advanced Study of India, University of Pennsylvania (Fall 2008), and at the Indian School of Business (ISB), Hyderabad (2011-12). He held the Jamuna Raghavan Chair in Entrepreneurship at IIMB from 2007-10.
Professor Krishnan's main areas of interest are strategy and innovation. He was listed among the Thinkers50 India most influential thinkers in management from India (2013) and jointly received the special Thinkers50 India Innovation award (2013). Earlier, he received the Dewang Mehta Award for Best Teacher in Strategic Management in 2010.
About Ganesh K.N.
Ganesh Kumar Nidugala is currently Professor of Economics (since 2007) at IIM Indore. He obtained his Ph.D. (Fellow title) from IIM Ahmedabad in 1993. He served as Member, BoG, IIM Indore during 2009-13, Dean (admin) (2012-14) and Dean(Academic) (2014-2016) at IIM Indore. He was awarded with Ford Foundation Post-Doctoral Fellowship in Economics (1996-97) under which he pursued research and course work at Univ. of Southern California, Los Angeles, U.S.A. His work experience includes teaching at T.A.Pai Management Institute, Manipal (1993-97), IIM Indore (1997-2001) and Stansfield School of Business, Singapore (2001-2007). He was conferred with Dewang Mehta Best teacher award in 2011, best teacher award by IIM Indore (2012), and Education Leadership award by the World Corporate Universities Congress in 2014. He has presented several papers and cases in Indian and International conferences, published cases in Richard Ivey and Economic Times case center and, published research papers Journals such as International Journal of Corporate Governance, Journal of Developing Areas, Journal of Public Affairs, International Journal of Technology Management and Sustainable Development, Journal of Emerging Market Finance, Economic and Political Weekly, The Indian Economic Journal, Bank Parikrama, Finance India, Indian Economic Panorama, Indore Management Journal etc. The cases he co-authored have won best case award in 5th Asian Management Research and Case Conference held at University of Wollongong, Dubai, 2015 and IIM RAIPUR- ET CASES Award at the Global Summit on Management Cases, held at IIM Raipur, 2016.
About Sam Subramaniam
Ramaswamy 'Sam' Subramaniam is the CEO of Brand Capital, the $3 billion strategic investment arm of The Times Group. Brand Capital leverages brand-led growth and value creation via unique and pioneering investment models and programmes.Sam has 25 years of experience in general management, strategy, business development, investing, operations and turnarounds.
Earlier he served as Senior Advisor for a major retail finance and insurance business and held key senior executive roles in private equity, investment banking, strategy and business operations. He co-founded a family office and private equity business and managed a multi-billion dollar portfolio over the period. Sam graduated from Indian Institute of Technology, Madras and holds graduate degrees from Vanderbilt University and the University of Chicago's Booth School of Business.
Featured Speakers
Event Pictures
Partners